3 Things You May Be Doing Wrong with that SEO Plugin

There are a whole host of plugins these days for WordPress sites and other CMS platforms that promise to simplify SEO and get fast and easy results. These tools certainly are helpful and powerful if you know how to use them, but so often I see sites where the plugin is setup and no further work has been done.
SEO plugins are not something that simply work be being activated on your site, they take work. The purpose of SEO plugins are to help users consolidate where they have to go and what they have to do when changing site titles, site descriptions, image tags, etc… Often they will serve as a double check to ensure that your SEO strategy is following the rules.
3 Things To Do When Using an SEO Plugin
Whether you're using the tried and true Yoast, or any other SEO plugin here are 5 things to check to ensure it will benefit your website.
Set it up properly!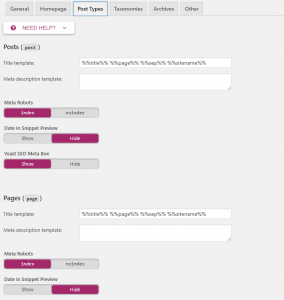 You'd be surprised how often I find a website owner who has gone to the trouble to install and activate their SEO plugin and gone no further than that. No customization of the settings, no configuration of how titles and descriptions of how posts and pages will display… nothing! Setting up your SEO plugin from the get go can be the first step between a successful SEO strategy and one that from the beginning is doomed to failure.
Check Your Pages!
Now that you have the plugin configured, check your sites and begin to fill in the needed information. You'll want to think about every aspect of your site, from the title to the wording of the slug and meta description. There is a lot of research and strategy that goes into these fields, everything from keyword research to knowing the maximum character limits when it displays on Google or Bing. If these are done incorrectly it can hurt your site's performance in search engine rankings.
Be OCD about content!
It's not secret that good, original and frequent content is a great way to boost your site, google loves that stuff but there are rights and wrongs of posts and content for SEO as well.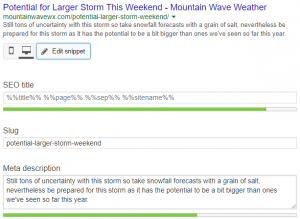 Make sure you're using the same strategy with posts and content. Once you have keywords you've identified begin to sprinkle them in to your posts and content. I find that keyword stuffing (the act of writing your content just for keywords is ineffective and just makes your site sound plain weird and unreadable.) Also, Google especially is on to sites like that and it can end up doing more damage than good.
Here's an example of keyword stuffing:
We sell custom cigar humidors. Our custom cigar humidors are handmade. If you're thinking of buying a custom cigar humidor, please contact our custom cigar humidor specialists at custom.cigar.humidors@example.com.
Doing stuff like that will give your site a poor user experience and this is something search engines are getting more and more strict about. In the end, this will end up hurting your site tremendously, if it hasn't yet it's just a matter of time.