Website Maintenance Plans on Sale Until February 2020!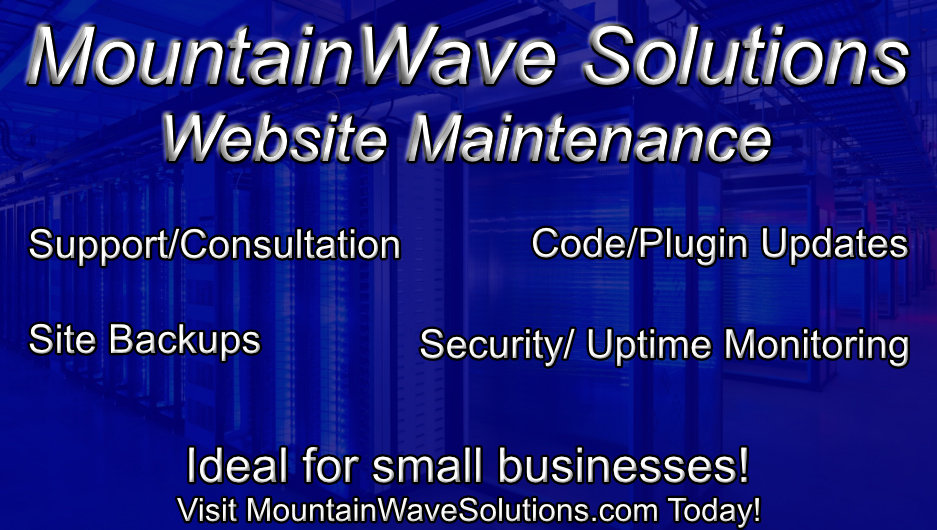 The savings continue! Until February 1, all website maintenance plans are discounted. An excellent opportunity if you are a small business looking to get your website in shape for the new year!

What Makes Our Website Support Special?
Support and Consultation
Our plans offer specialized support and consultation hours per month. This gives our clients the ability to run ideas by us, experiment with new website ideas or just get technical support for an issue with the site or its functions; at no additional cost with the maintenance plan!
Most utilized functions of support/consultation from our clients: SEO, marketing questions, new website functionality and website technical support
Security and Usability
With our maintenance plans, one of our primary functions is to monitor website core code and updates
We will monitor up time to ensure your site is always available and will notify you instantly if the site has a problem and goes down
We make sure the site code and security is completely updated – if not we will update the site and harden any security holes
Backups
Did you know many website hosts will offload site backup responsibility to its users?
We ensure backups are taken at regular intervals and are stored safely so that if something should happen to your website it can be recovered quickly!
Analytics/Visitor Tracking
With our higher level plans, we will install analytics and tracking software and help you set them up with google, bing, etc…
We will assist you in learning how your traffic is finding your site and where it is coming from
With up to 2 hours of support per month with our higher level plans, we can assist in developing a digital marketing strategy or help with SEO and driving traffic to your website!
It's 2020 and our Website Maintenance Plans will only be on sale for a limited time! Be sure to contact us today with any questions or sign up here!